We all want a strong mind in a strong body. And improving the mental health of your community could begin right in your fitness amenity.
Our good partner in fitness, Matrix, has been focusing on exercise and mental health for the past couple of months.  We decided to follow their lead and take a look at this link between moving your body and boosting your mind. Link to Matrix Make Mental Health Matter.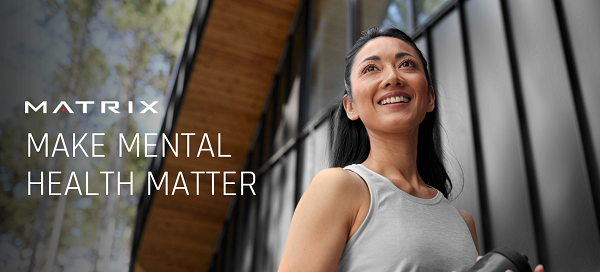 According to Matrix Fitness Wellness Researcher and Neuroscientist, Dr. Karlie Intlekofer, Fitness gyms can play a big part in improving mental health.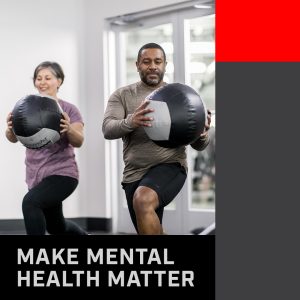 "An active lifestyle reduces the symptoms of stress-related disorders such as depression. Over the past two years, more than one in three individuals have struggled with depression symptoms. The pandemic increased daily sitting time by 28% worldwide, and many are not yet back to pre-COVID levels of fitness or physical activity," says Dr. Intlekofer.
She says fitness centers and gyms offer environments that check many of the boxes when it comes to a list of ideal features for promoting well-being including the production of brain-derived neurotrophic factor or BDNF.
Dr. Inklehofer says BDNF is considered protective against depression because it improves the function of brain regions that help us handle stress.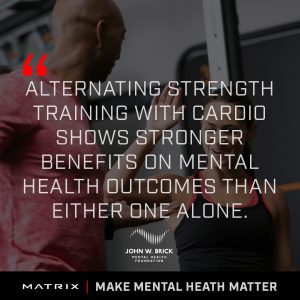 Researchers at the Mayo Clinic have also found a positive force between exercise and mental health. Exercise can also help your guests and residents to gain confidence, get more social interaction and cope in a healthy way.  Doing something positive like exercise is the best way to manage depression or anxiety and is a healthy coping strategy for stress and anxiety.
A focus on mental health is new to the fitness industry but it makes sense. But until Matrix introduced its campaign, we were unaware of how there is such a direct correlation between exercise and mental health.  Studies say even just 10 minutes of exercise a day can boost your mood and your mind.
Your fitness amenity is not just a showplace to appeal to new residents and guests, it's a way to keep your community healthier and happier.
We can help create the perfect fitness center for you, contact Ready Fitness today!