When you choose Ready Fitness you choose the best design and equipment in the business.  But we don't just install your fitness center and disappear.   Our in-house service team continues the relationship with our clients long after the sale and set-up.
NOT ONE SIZE FITS ALL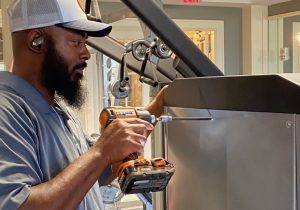 "We have the most experienced service staff in the industry and we can create a preventative maintenance plan that fits your equipment needs and budget," says Ready Fitness President and Founder, Eric Coryer.
Our service team is an important part of the long-term partnership with our clients and it shows.  We invest in the education and skills of our team and they are very quick to respond to any and all service requests.
TEAM EFFORT
"When I share that Ready Fitness is your full-service partner from equipment selection to install, to service… the one thing I keep getting is the 'Really you do?' face," says Ready Fitness Georgia Sales Manager Julie Krummes.
But, Julie adds, it's true!  Ready Fitness will service all your equipment… even if you bought it from somewhere else. That's right… we do it all!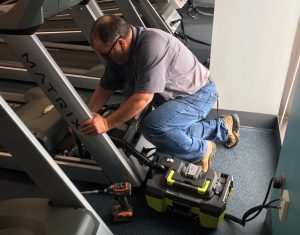 Our service techs are trained in all types of fitness equipment, proud to be part of the Ready Fitness team and fully supported by everyone from the warehouse to the field.
WE CARE
"Our service techs truly care about making sure your equipment is running properly and provide great communication with tech visits, parts ordered, and quotes," says Ready Fitness Carolina Sales Manager Cel Smart.
They're ready to help in any way they can regarding issues and concerns that may come up during a routine preventative maintenance visit.  And then make it happen!
When Eric created Ready Fitness, he knew service is an integral part of building a successful business. The best teams do not outsource any part of the service process. Go with the best: Ready Fitness