You've always kept your Fitness Center clean, but now you need to take it to the next level as you are re-opening in the midst of the Coronavirus Pandemic.  Many of our clients at Ready Fitness have fitness centers that are not staffed.  And that brings a whole new set of concerns.
There is a lot of guidance out there as to how to manage your fitness center in the COVID19 world and we know a lot more now than we did just a few months ago.  But guidance and knowledge are changing every day.
Stay on top of the changes. Your first stop should always be to check your local and state health department guidelines and keep checking! The CDC has great guidance here that is being updated regularly.
The best rule in re-opening your Fitness Center is to turn to science.  And communicate.
Give Clear Guidance
The National Apartment Association sent out some great tips to help you open and stay open safely.  They recommend sending an email or other communication to your residents with new guidelines to include:
Washing your hands before and after exercise
Social distancing details

Hours of operation
If there will be a sign-up sheet to use the fitness center
Guidance on sanitizing the equipment before and after use.
Because apartment gyms are rarely staffed, most communities would have to trust residents to properly clean the equipment, and that may be a bit challenging.
The NAA suggests contracting a cleaning company to come in once a week or more for deep cleaning of fitness facilities. Increasing the number of daily cleanings by scheduling gym closures throughout the day to allow cleaning crews or your maintenance team to thoroughly clean the equipment and floors.
It may be best to eliminate 24-hour gym availability, according to the NAA,  to make sure fitness centers receive a complete cleaning at the end of each day.
Cleaner Cardio & Strength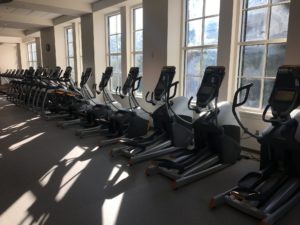 The NAA says addressing strength and cardio areas in your fitness center is important. You may need to reconfigure the space to increase the distance between the equipment and consider how many people should be allowed in the space at one time.  Alternating machine use can also help maintain better cleaning schedules.
Placing markers on the floor to indicate where residents can stand to remain six feet apart will assist in reinforcing the importance of social distancing, especially if your fitness center is super busy.
Exercise Equipment
You invested in the best equipment.  Make sure you are cleaning properly and not voiding your warranty. Get guidance from your equipment manufacturer and their recommended procedures for cleaning and disinfecting.
Matrix Fitness has approved disinfectants as do many other fitness equipment manufacturers. If you have questions, reach out to us and we can help.
Ensure you have proper cleaning/disinfecting supplies on-hand for your residents to clean their own equipment.
Cleaning/disinfectant wipes
Mild dish soap-and-water mixture in a spray bottle (10:1 water to soap)
Or a vinegar-and-water mixture (20:1 water to vinegar)
A screen cleaner and micro-fiber cloth are recommended for equipment consoles
Floors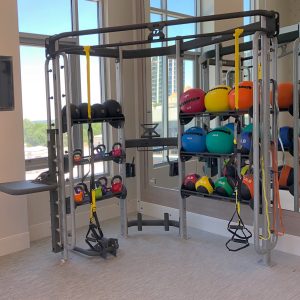 Many Fitness Studios have rubberized or other synthetic flooring and cleaning it properly is different than other types of flooring.  Check with the manufacturer of your flooring and if you don't know, reach out to your Ready Fitness Sales Manager.  Ecore has created maintenance guidelines and videos for its athletic surfaces. This includes daily and routine maintenance, restorative cleaning, and deep cleaning guidelines.
Accessories
Kettle Bells, mats, exercise balls… all those accessories can be time-consuming to clean properly.  Some Fitness Centers are opting not to leave them out for use… or include careful guidance on cleaning.  These should also be included in your deep cleaning regimen if you choose to let everyone use them.
Air Circulation
Some commercial buildings can increase airflow in certain rooms or bring in more fresh air. Check with your HVAC or maintenance company to find out the options at your property.
Be vigilant and flexible… and we can all stay safe, stay healthy, and stay working out.