We're not promising a family that works out together, stays together, but Ready Fitness Project Manager Pete Rogers recently posted a video of his 10-year-old son, Gabe, working out with him on the Torque Tank.
Many people then reached out to us about what's the best way to work out with your kids.  We picked Pete's brain and he came up with some tips.
Pete is m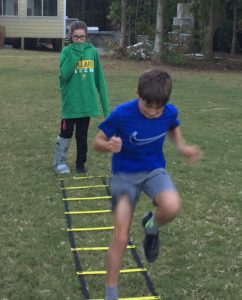 ore than just a Ready Fitness guru and Fitness Junkie, he has his degree in Elementary Education and coached college wrestling for more than a decade at schools such as Purdue University.
He is the father of Gabe, 10 and Bella, 12, who still gets moving even when she has a broken foot (seriously, see photo)

Every Monday, Pete hosts a Kid Workout Night in his neighborhood.  Children  gather in his backyard to do short sprints, push ups, the ninja line, the agility ladder and more.
"They have so much fun, they don't even know they're working out.  And it instills in them a love to move and be healthy," says Pete.
TIPS FOR WORKING OUT WITH YOUR KIDS

MAKE IT FUN
If you can get them to enjoy working out they will ask for more work outs.  We started Gabe and Bella with a Ninja Slack Line, just like in the NBC show American Ninja.  When they mastered the attachments, we would get them more until the slack lines were filled.
We also did simple workouts like dropping Bella and Gabe off on the way home from school to run and race us home in the car.  This opened the door to using my Tank Demo consistently and on to agility ladders, band training and 5K's.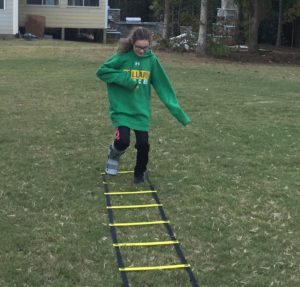 CHALLENGE THEM
Once they have fun, you can start to ask them to work harder and continue to improve.  I believe that kids crave being pushed physically, but they don't know how to ask for it.  We live in a world of instant gratification: cell phones, computers and video games etc.  It is important to have something to work for.
One of the big reasons for my kids wanting to work out is to improve their success in athletics.  Bella plays soccer year-round and Gabe likes all sports!
LET THEM LEAD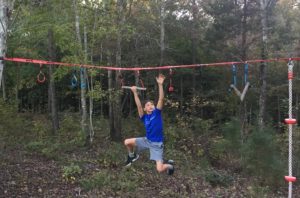 Let your kids make the decision that they should work out.  If I dragged Bella and Gabe out of the house and force them to train eventually they will not want to do it anymore.
1) Show them how to set goals and monitor their improvement.  Physical activity is a great way to get children started with setting goals because it's easy to evaluate results. For example, They might have done 20 push ups today and in three weeks they want to be able to do 50 push ups.
2) Let them choose them the next exercise or workout.  Kids don't have a lot of say in their lives… give them control this time.
3) Get a routine set and they will start to remind you.  And if not I am definitely not afraid to remind them too.
Working out is the norm in our house.  My wife Brandi and I both workout consistently so our they see it as a normal part of the day.  When we put them through a workout we typically do it with them.
IT'S NOT JUST ABOUT THE WORKOUT
This is your chance to have your kid's undivided attention, nothing opens up the ears better fatigue after a good workout.
Spend time together, talk about life and goals.
And Stay Fit!